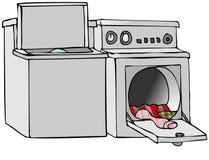 The laundry is set to open bright and early Wednesday May 27th. "Bright and early" means if you want to go at 12:01 am, knock yourself out.
There are several posts that will follow with the information you will need in order to be prepared for your trip to the laundry. The first will be the Laundry Room Rules. The second will be the Laundry Room Sign. You will find this sign on the front door on Wednesday when you enter the laundry. It is a waiver allowing entry into the laundry. It does not require that you sign anything. It's a notice that if you enter you will be waiving your rights if you think you have contracted Covid-19 in the laundry.
Eco Peach will be cleaning and disinfecting the laundry daily. At this time, we are unclear as to whether or not they will do this at the same time every day. Regardless, no one will be allowed to be in the laundry while it is being cleaned and disinfected. If you are in the middle of washing and/or drying, please step outside and sit in your car until they have finished. If we get verification that they will be cleaning at the same time daily, we will let you know via this blog.
The Board signed a resolution allowing for the reopening for the laundry and incorporating the Laundry Room Rules. These will be posted on the website this weekend.
Lots of bureaucracy was involved in opening the laundry. This includes lots of signage and many rules. We are relying on our partners to come through for us on Tuesday so that the laundry can be safely opened. We don't anticipate any problems, but in the event that there is a glitch, we will notify you immediately via this blog. Thank you so much for your understanding as we move forward with this opening.